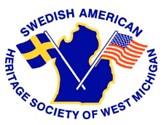 The Swedish American Heritage Society of West Michigan, an affiliate of the Swedish Council of America, was founded to preserve, foster and perpetuate traditional customs and culture of our Swedish heritage, as well as that of other Scandinavians.
If you are of Swedish heritage, or the spouse of same... or if you simply have a sincere interest in Swedish or Scandinavian heritage, you are invited to join us!

Greet the Spring!

Our annual Valborgsmässoafton Celebration will take place this year on May 6 at Hager Park in Jenison. Details are on the Program page.

Swedish Reading Club

On April 18, the Swedish Reading Club will discuss Willful Disregard by Lena Andersson, which best-selling author Alice Sebold described as "a story of the heart written with bracing intellectual rigor... It is a stunner, pure and simple." For more information, visit the Upcoming Events page.

September 15: Save the Date!

You won't want to miss our 20th Anniversary Celebration! More information to follow.
Web site by interbridge
All content © 2002-17 by the Swedish American Heritage Society of West Michigan