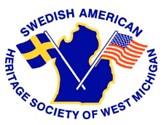 The Swedish American Heritage Society of West Michigan, an affiliate of the Swedish Council of America, was founded to preserve, foster and perpetuate traditional customs and culture of our Swedish heritage, as well as that of other Scandinavians.
If you are of Swedish heritage, or the spouse of same... or if you simply have a sincere interest in Swedish or Scandinavian heritage, you are invited to join us!

January 22: Swedish Genealogy Seminar

Do you have a Swedish ancestor in your family woodpile? Come and learn about Sweden, why your ancestor left, and how to find them again. Jill Pearson Reider will be holding a Swedish Genealogy seminar on Jan. 22 from 6:30-8:30 PM in the Vanderveen Room, 4th Floor, Grand Rapids Public Library. This event is hosted by the Western Michigan Genealogical Society and is free and open to the public.

March 12: Meet, Eat, and Learn: "The Swede in Me"

A casual evening designed to make some new friends and learn more about everyone's Scandinavian roots while sampling Swedish dishes prepared by chef Rich Fahlen. For more information, visit the Upcoming Events page.

Swedish Reading Club

On April 17, the Swedish Reading Club will discuss The Underground Girls of Kabul by Jenny Nordberg. The book follows Afghan girls who live disguised as boys through childhood and puberty, only to be expected by adult age to transform into subordinate wives and mothers. For more information, visit the Upcoming Events page.
Web site by interbridge
All content © 2002-18 by the Swedish American Heritage Society of West Michigan