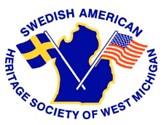 The Swedish American Heritage Society of West Michigan, an affiliate of the Swedish Council of America, was founded to preserve, foster and perpetuate traditional customs and culture of our Swedish heritage, as well as that of other Scandinavians.
If you are of Swedish heritage, or the spouse of same... or if you simply have a sincere interest in Swedish or Scandinavian heritage, you are invited to join us!

Swedish Heritage Day!

The Governor proclaimed Sept. 15, 2017, as Swedish Heritage Day in Michigan, stating: "Swedish Americans continue to strengthen and enrich our country and Michigan through their culture, pride, industriousness, and commitment to the principles upon which our great nation was founded."

Swedish Reading Club

On Oct. 17, the Swedish Reading Club will discuss Severed Ties and Silenced Voices by Roger McKnight. On a November night in 1872, the Swedish immigrant Lars Johnson left his Minnesota farm and walked out into the early morning chill. He was never seen alive again. For more information, visit the Upcoming Events page.

December 2: Save the Date!

Be sure to mark your calendars for our twenty-first annual Lucia Celebration at St. Mark's Episcopal Church. Details to come.
Web site by interbridge
All content © 2002-17 by the Swedish American Heritage Society of West Michigan