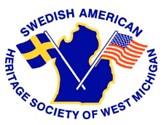 The Swedish American Heritage Society of West Michigan, an affiliate of the Swedish Council of America, was founded to preserve, foster and perpetuate traditional customs and culture of our Swedish heritage, as well as that of other Scandinavians.
If you are of Swedish heritage, or the spouse of same... or if you simply have a sincere interest in Swedish or Scandinavian heritage, you are invited to join us!

June 23: Midsommar Celebration

Food, Music, Dancing, Games, Kubb, Raffle... Fun for the whole family! For details, including how to register and important information about a new route to Midsommar due to bridge closure, visit the Upcoming Events page.

Swedish Reading Club

On July 17, the Swedish Reading Club will discuss The Amazing Story of the Man Who Cycled from India to Europe for Love by Per J. Andersson. The book has been described as "a beautiful, epic tale of love and perseverance" (Booklist). For more information, visit the Upcoming Events page.
Web site by interbridge
All content © 2002-18 by the Swedish American Heritage Society of West Michigan