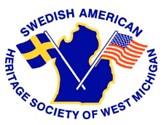 The Swedish American Heritage Society of West Michigan, an affiliate of the Swedish Council of America, was founded to preserve, foster and perpetuate traditional customs and culture of our Swedish heritage, as well as that of other Scandinavians.
If you are of Swedish heritage, or the spouse of same... or if you simply have a sincere interest in Swedish or Scandinavian heritage, you are invited to join us!

Midsommar Celebration!

Once again Mary and Bill Seeger have invited us to celebrate Midsommar at their lovely property on the Thornapple River. On June 24, we will gather in the shady oak grove to decorate the maypole and make flower head wreaths. There will be activities for young and old—ring dances, children's games, Kubb demonstration, wonderful music and fellowship, as well as good food and a raffle. Details are on the Upcoming Events page.

Swedish Reading Club

On July 18, the Swedish Reading Club will discuss The Little Old Lady who Broke All the Rules by Catharina Ingelman-Sundberg, a delightful and heartwarming novel that goes to prove the adage that it's not the years in your life that count, it's the life in your years. For more information, visit the Upcoming Events page.

September 15: Save the Date!

You won't want to miss our 20th Anniversary Celebration, to be held at the University Club in the Fifth Third building in downtown Grand Rapids. Invitations will be mailed in late July.
Web site by interbridge
All content © 2002-17 by the Swedish American Heritage Society of West Michigan