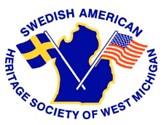 The Swedish American Heritage Society of West Michigan, an affiliate of the Swedish Council of America, was founded to preserve, foster and perpetuate traditional customs and culture of our Swedish heritage, as well as that of other Scandinavians.
If you are of Swedish heritage, or the spouse of same... or if you simply have a sincere interest in Swedish or Scandinavian heritage, you are invited to join us!

Midsommar Photos

View some photos taken at our annual Midsommar Celebration!

September 13: Annual Meeting

Save the date for our Annual Meeting on Sept. 13. More information will be coming soon.

Swedish Reading Club

On October 16, the Swedish Reading Club will discuss After the Fire by Henning Mankell. The sequel to his beloved Italian Shoes is about an aging man whose quiet, solitary life on an isolated island off the coast of Sweden is turned upside down when his house catches fire. For more information, visit the Upcoming Events page.
Web site by interbridge
All content © 2002-18 by the Swedish American Heritage Society of West Michigan