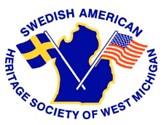 The Swedish American Heritage Society of West Michigan, an affiliate of the Swedish Council of America, was founded to preserve, foster and perpetuate traditional customs and culture of our Swedish heritage, as well as that of other Scandinavians.
If you are of Swedish heritage, or the spouse of same... or if you simply have a sincere interest in Swedish or Scandinavian heritage, you are invited to join us!

Valborgsmässoafton Spring Celebration in Hager Park

Please make plans for your family and friends to join us on May 3 for this fun-filled event and greet the Spring with a bonfire, food, music, and more! For details, including how to register, visit the Upcoming Events page.

Swedish Reading Club

On July 15, the Swedish Reading Club will meet at Covenant Village of the Great Lakes to discuss Norwegian by Night by Derek Miller. "This charming debut has the brains of a literary novel and the body of a thriller," raved the New York Times. For more information, visit the Upcoming Events page.

The SAHS Cookbook Is Here!

The SAHS cookbook, Swedish Favorites, is available! It features over 200 recipes submitted by SAHS members, including delicious breads, salads, entrees and desserts. You can order it from SAHS.
Web site by interbridge
All content © 2002-14 by the Swedish American Heritage Society of West Michigan