June 25, 2022
Midsommar
11 AM-4 PM
Caledonia Lakeside Park, 370 N Lake St SE, Caledonia, MI 49316
Please come and enjoy the festivities at the beautiful Caledonia Lakeside Park. We will gather to decorate the maypole and make flower head wreaths. There will be activities for young and old—ring dances, children's games, Kubb game, wonderful music and fellowship, as well as delicious dessert and a raffle. This year will be a bit different. To keep the cost low, we are asking people to please bring your own picnic lunch. We will be providing beverages donated by Coca-Cola and a traditional cake with strawberries and whipped cream.
We welcome donations of Swedish themed raffle prizes, flowers and greens for the maypole.
If you would like to help with any of the activities or set up, please email us at info@sahswm.org.
The event will cost $5 per person upon arrival. Children 4 and under are free. Please help us out by registering in advance by mail or email at info@sahswm.org.
Event Schedule:
11 AM: Maypole and Flower Wreath Preparation
Noon: Raising of the Maypole and Ring Dances
1 PM: Lunch (provide your own); beverages provided by Coca-Cola (water, lemonade)
1:30 PM: Dessert – Strawberry Whipped Cream Cake and Coffee Provided
2 PM: Special Music and Games
---
July 19, 2022
Swedish Reading Club: Letters from Tove by Tove Jansson, edited by Boel Westin and Helen Svensson
7 PM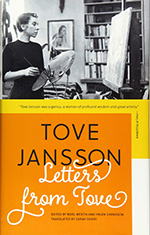 Our meeting will be held online using the videoconferencing app Zoom. For more information, including the link to join the meeting, please email info@sahswm.org.
A virtual memoir in letters by the beloved creator of the Moomins.
These letters, penned with characteristic insight and wit, provide an almost seamless commentary on Tove Jansson's life within Helsinki's bohemian circles and on her island home. They summon a particular place and time reflected through a mind finely attuned to her culture, her world, and her own nature, drawing a complex, intimate self-portrait of one of the world's most beloved authors.
"This spirited collection of letters by Finnish author and illustrator Tove Jansson… brims with affection, humor, and artistry… Jansson's fans will particularly enjoy discovering which characters had real-life inspirations. However, all readers should find her a delight to spend time with."
—Publishers Weekly
You can buy the book online at Schuler's, or at a discount in the store.