August 25, 2021
American Swedish Institute Virtual Event: Swedish Summer Seafood
7:30 PM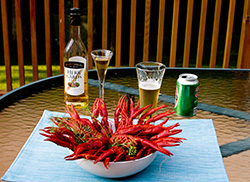 From fermented herring to crayfish parties, seafood is a great entry point to some of Sweden's strangest and most fun culinary traditions. Join Patrice for an evening of tips and stories as she cooks through a seafood-centric menu. From apps to main courses, she'll share examples of fresh, smoked and preserved fish and shellfish dishes with light and easy takes that could be put together into a celebratory menu or could stand alone as a simpler weeknight supper. Learn more and register at this link.
---
October 19, 2021
Swedish Reading Club: Anxious People (Folk med ångest) by Fredrik Backman
7 PM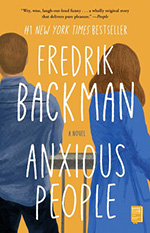 Our meeting will be held online using the videoconferencing app Zoom. For more information, including the link to join the meeting, please email info@sahswm.org.
Looking at real estate isn't usually a life-or-death situation, but an apartment open house becomes just that when a failed bank robber bursts in and takes a group of strangers hostage. The captives include a recently retired couple who relentlessly hunt down fixer-uppers to avoid the painful truth that they can't fix their own marriage. There's a wealthy bank director who has been too busy to care about anyone else and a young couple who are about to have their first child but can't seem to agree on anything. Add to the mix an eighty-seven-year-old woman who has lived long enough not to be afraid of someone waving a gun in her face, a flustered but still-ready-to-make-a-deal real estate agent, and a mystery man who has locked himself in the apartment's only bathroom, and you've got the worst group of hostages in the world.
You can buy the book online at Schuler's, or at a discount in the store.