June 24, 2023
Midsommar Celebration at Lakeside Park, Caledonia
11 AM
Please come and enjoy the festivities at the beautiful Caledonia Lakeside Park. We will gather to decorate the maypole and make flower head wreaths. There will be activities for young and old—ring dances, Kubb, wonderful music, fellowship, as well as delicious dessert and a raffle.
Like last year, everyone should bring their own picnic lunch. We will be providing beverages donated by Coca-Cola and dessert of cake with strawberries and whipped cream, served with coffee, of course. We will also have a book sale with a variety of items available for purchase. Be sure to check those out!
If you have any Swedish-themed items you would like to pass on, please bring them as a donation for the raffle prizes. Also, If you have flowers or greens in the garden that can be used for decoration, please bring those as well. We can always use more flowers.
Volunteers are needed! If you would like to help with any of the activities or set up, please email us at info@sahswm.org.
The event will cost $10 per person adult, $5 per student, and free for preschoolers and younger. There is no need to pre-register or pre-pay. We will be collecting money at the event (cash, check, PayPal, or credit card). If you would prefer to pay in advance, you can send money to our PayPal account at SAHSWM@gmail.com.
Event Schedule:
11 AM – Maypole and Flower Wreath Preparation
Noon – Raising of the Maypole and Ring Dances
1 PM – Lunch (provide your own). Beverages provided by Coca-Cola (water, lemonade).
1:30 PM – Dessert – Strawberry Whipped Cream Cake and Coffee Provided
2 PM – Special Music and Games
TBA – Raffle Drawing
---
July 18, 2023
Swedish Reading Club: Stolen (Stöld) by Ann-Helén Laestadius
7 PM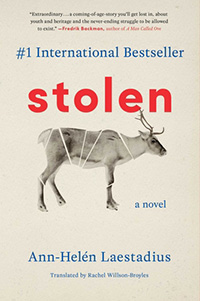 Our meeting will be held online using the videoconferencing app Zoom. For more information, including the link to join the meeting, please email info@sahswm.org.
On a winter day north of the Arctic Circle, nine-year-old Elsa—daughter of Sámi reindeer herders—sees a man brutally kill her beloved reindeer calf and threaten her into silence. When her father takes her to report the crime, local police tell them that there is nothing they can do about these "stolen" animals. Killings like these are classified as theft in the reports that continue to pile up, uninvestigated. But reindeer are not just the Sámi's livelihood, they also hold spiritual significance; attacking a reindeer is an attack on the culture itself.
Ten years later, hatred and threats against the Sámi keep escalating, and more reindeer are tortured and killed in Elsa's community. Finally, she's had enough and decides to push back on the apathetic police force. The hunter comes after her this time, leading to a catastrophic final confrontation.
Based on real events, Ann-Helén Laestadius's award-winning novel Stolen is part coming-of-age story, part love song to a disappearing natural world, and part electrifying countdown to a dramatic resolution—a searing depiction of a forgotten part of Sweden.
"Stolen is an extraordinary novel. A coming-of-age-story you'll get lost in, about youth and heritage and the never-ending struggle to be allowed to exist. Although set in the coldest and most northern part of Scandinavia, I'm convinced it's a universal story to be loved everywhere in the world."
—Fredrik Backman, internationally bestselling author of A Man Called Ove and Anxious People
You can buy the book online at Schuler's, or at a 20% discount in the store.
Upcoming Meetings:
October 17: In the Distance by Hernan Diaz