Annual Meeting and Lucia: Canceled
Due to the pandemic, SAHS's Annual Meeting and the Lucia Celebration will not be held this year.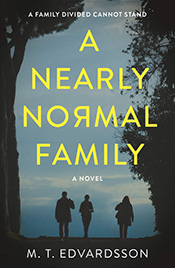 January 19, 2021
Swedish Reading Club: A Nearly Normal Family (En helt vanlig familj) by M.T. Edvardsson
7 PM
Our meeting will be held online using the videoconferencing app Zoom. For more information, including the link to join the meeting, please email info@sahswm.org.
Eighteen-year-old Stella Sandell stands accused of the brutal murder of a man almost fifteen years her senior. She is an ordinary teenager from a respectable local family. What reason could she have to know a shady businessman, let alone to kill him?
Told in an unusual three-part structure, this gripping, domestic drama pushes a family to its limits. The father, a pastor, believes his daughter can only be innocent, despite mounting evidence. The mother, a defense attorney, believes no one is telling the truth. And the daughter, desperate for her dreams of the future, believes no one understands how far she is willing to go.
"A compulsively readable tour de force." (Wall Street Journal)
You can buy the book online at Schuler's, or at a discount in the store.