October 3, 2022
Jaerv with The OK Factor
8 PM
Location: Keene Theater, East Quad, 701 E. University, Ann Arbor, MI
Free and open to the public.
Jaerv is an innovative Swedish folk quintet rooted in several different musical traditions with influences from both jazz and pop music. Known for their lively stage performances, Jaerv blends five-voiced tunes with energetic dances and free improvisations. They will be joined by Minnesotan neoclassical crossover duo The OK Factor, whose original compositions feel both comfortingly familiar and uniquely fresh.
Jaerv will also be doing an Open Jam Session on Oct. 4 at 6 PM in the Front Lobby, East Quad, 701 E. University.
Free and open to the public, all acoustic instruments welcome! Musicians of all levels are encouraged to join. Bring your acoustic instrument or enjoy as an audience member.
Open jam will be followed by a Q&A with the artists.
More information about the show and the jam session are available here.
---
October 18, 2022
Swedish Reading Club: Some Kind of Peace by Camilla Grebe & Åsa Träff
7 PM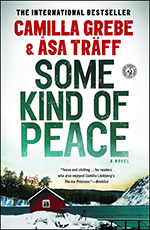 Our meeting will be held online using the videoconferencing app Zoom. For more information, including the link to join the meeting, please email info@sahswm.org.
A thirty-four-year-old psychologist with a troubled past, Siri Bergman works in central Stockholm and lives alone in an isolated cottage outside the city. Terrified of the dark, she leaves all the lights on when she goes to bed—after having a few glasses of wine to calm her nerves—but she can't shake the feeling that someone is spying on her through the blackened windows.
When the lifeless body of Sara Matteus—a young patient of Siri's with a history of drug addiction and sexual abuse—is found floating in the water near the cottage, Siri can no longer deny that someone is out there, watching her and waiting. With the help of Markus, the young policeman investigating Sara's death; Vijay, an old friend and psychology professor; and Aina, her best friend, Siri sets out to catch the murderer and finally put her past to rest. But as their investigation unfolds, virtually everyone Siri trusts will become a potential suspect.
You can buy the book online at Schuler's, or at a 20% discount in the store.
---
December 3, 2022
Sankta Lucia Celebration
Location: Mayflower Congregational Church, 2345 Robinson Rd. SE, Grand Rapids, MI
10 AM
We warmly welcome you to attend our 2022 Sankta Lucia Celebration!
We are excited to welcome Abby Whitenight Brooks as our director this year. We need singers in our choir and welcome anyone (SAHS member or not!) in first grade through college to join our choir.
Preschool/kindergarten children are welcome to participate as tomtar and only need to attend the first part of the dress rehearsal for their song. Please contact Sonja Noykos at sonjanoykos@gmail.com to sign up to sing!
*Rehearsal dates: Sundays November 6, 13, 20 from 3:30-4:30 PM. Dress rehearsal from 6:30-8 PM on Friday, December 2. (Tomtar attend 6:30-7 PM.) Singers meet early again at 8 AM on December 3, with the program being held at 10 AM.