Annual Meeting: Canceled
Michigan's current executive order prohibits any indoor social gatherings of more than 10 people statewide, so SAHS's Annual Meeting will not take place this year.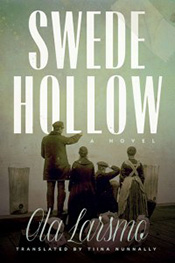 October 20, 2020
Swedish Reading Club: Swede Hollow by Ola Larsmo
7 PM
Our meeting will be held online using the videoconferencing app Zoom. For more information, including the link to join the meeting, please email info@sahswm.org.
A riveting family saga immersed in the gritty, dark side of Swedish immigrant life in America in the early twentieth century.
Gustaf and Anna Klar and their three children dream of starting over when they leave Sweden for New York, finally settling in a cluster of rough-hewn shacks in a deep, wooded ravine on the edge of St. Paul, Minnesota. This haunting story of a real place echoes the larger challenges of immigration in the twentieth century and today.
"Larsmo's well-researched, dynamic story illuminates the Swedish immigrant experience and will transport readers into a little-known historical community." (Publishers Weekly)
You can buy the book online at Schuler's or another independent bookstore.