December 7, 2019
23rd Annual Lucia Celebration
St. Mark's Episcopal Church (Division at Pearl Street in downtown Grand Rapids)
10:30 AM
We invite you to come and enjoy this lovely Swedish introduction to the Christmas season and listen to the Lucia choir sing in a beautiful setting.
There will be saffron buns, cardamom bread, pepparkakor and coffee served.  Check out our Christmas items for sale!
It helps us greatly if you pre-register and pay by December 3. Tickets at the event will cost $2 more!
Members: $8;  non-members: $10;  students 14 and older: $5; children 13 and under: free.
Register online and pay with PayPal, or send a check to SAHS/WM, 29 Pearl St. NW, Suite 127, Grand Rapids, MI 49503.
January 21, 2020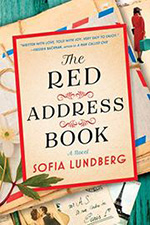 Swedish Reading Club: The Red Address Book (Den röda adressboken) by Sofia Lundberg
In this heartwarming debut novel, an international bestseller, 96-year-old Doris writes down the memories of her eventful life as she pages through her decades-old address book. But the most profound moment of her life is still to come…
We will be meeting at Covenant Living of the Great Lakes, 2510 Lake Michigan Drive NW (between Oakleigh and Fairfield).
7 PM
The book is available at Schuler's, 2660 28th Street SE.
You can also buy the book online at Schuler's or another independent bookstore.