April 15, 2021
Nordic Table Demo (presented by the American Swedish Institute): Learn how to make tunnbröd (flatbread)
2 PM Eastern Time
Swedish flatbreads come in all shapes and sizes: thicker, thinner, harder, softer, grainy or full of spices. In this class, instructor/ASI staff member Erin Swenson-Klatt will demonstrate a few thin, soft flat breads. These breads, traditional to northern Sweden, work great as wraps (they are the base of that Swedish street food favorite, the hot dog wrap) but are also tasty rolled up simply with butter. They can be made without any special equipment.
Register here for this virtual demo, which is available to members and non-members of ASI.
Other upcoming Nordic Table Demos include A Valborg Fest (April 28), Kardemummabullar (May 7-8), Spring Desserts (May 12), and Mini Celebration Cakes (June 3).
---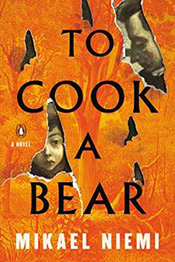 April 20, 2021
Swedish Reading Club: To Cook a Bear (Koka björn)
by Mikael Niemi
7 PM
Our meeting will be held online using the videoconferencing app Zoom. For more information, including the link to join the meeting, please email info@sahswm.org.
A fantastic tale set in the far north of Sweden in 1852 following a runaway Sami boy and his mentor, the famous pastor Laestadius, as they investigate a murder in their village along with the mysteries of life.
"There is much more to this wonderfully idiosyncratic novel from Sweden; it is not only a riveting, psychologically astute mystery but also a work of history, natural history (the pastor is a gifted botanist), and religion… superb. It is not to be missed."
—Booklist (starred review)
You can buy the book online at Schuler's, or at a discount in the store.