June 22, 2019
Midsommar Celebration
11 AM-4 PM
6977 Alaska Avenue SE
Once again Mary and Bill Seeger have invited us to celebrate Midsommar at their lovely property on the Thornapple River in Alaska. We will gather in the shady oak grove to decorate the maypole and make flower head wreaths. There will be activities for young and old—ring dances, children's games, Kubb demonstration, live music and fellowship as well as good food and a raffle.
ADVANCE RESERVATIONS: Adult members: $10
Adult non-members: $12
Children 5-15: $5
Children 4 and under: FREE
Tickets at the event will cost $15, so please register early. Registration will be open soon!
All food and beverages will be provided. Please bring your own lawn chair or picnic blanket. As always, we will have table seating available also. We welcome donations of Swedish themed raffle prizes and flowers and greens for the maypole.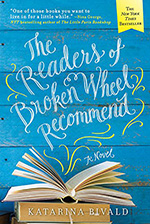 July 16, 2019
Swedish Reading Club: The Readers of Broken Wheel Recommend (Läsarna i Broken Wheel rekommenderar) by Katarina Bivald
Broken Wheel, Iowa, has never seen anyone like Sara, who traveled all the way from Sweden just to meet her book-loving pen pal. When she arrives, however, she finds Amy's funeral guests just leaving. The residents of Broken Wheel are happy to look after their bewildered visitor—not much else to do in a small town that's almost beyond repair. They just never imagined that she'd start a bookstore. Or that books could bring them together—and change everything.
We will be meeting at Covenant Village of the Great Lakes, 2510 Lake Michigan Drive NW (between Oakleigh and Fairfield).
7 PM
The book is available at Schuler's, 2660 28th Street SE.
You can also buy the book online at Schuler's or another independent bookstore.