December 3, 2022
Sankta Lucia Celebration
Location: Mayflower Congregational Church, 2345 Robinson Rd. SE, Grand Rapids, MI
10 AM
We warmly welcome you to attend our 2022 Sankta Lucia Celebration!
We invite you to come and enjoy this lovely Swedish introduction to the Christmas season and listen to the Lucia choir sing in a beautiful setting. Note new venue! There will be plenty of free parking.
There will be baked goods and coffee to enjoy afterwards plus a Julmarknad sale!
Bring cash if you are interested in purchasing any items.
It helps us greatly if you pre-register and pay by December 1. Register here.
---
January 17, 2023
Swedish Reading Club: I Go To America: Swedish American Women and the Life of Mina Anderson by Joy K. Lintelman
7 PM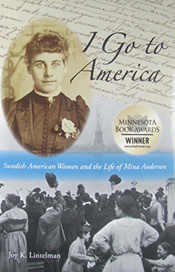 Our meeting will be held online using the videoconferencing app Zoom. For more information, including the link to join the meeting, please email info@sahswm.org.
Near the end of her life, Mina Anderson penned a lively memoir that helped Swedish novelist Vilhelm Moberg create "Kristina," the central female character of his beloved emigrant novels, a woman who constantly yearns for her homeland. But Mina's story was quite different.
Showcasing her previously untranslated memoir, I Go To America traces Mina's trip across the Atlantic to Wisconsin and then the Twin Cities, where she worked as a domestic servant, and her move to rural Mille Lacs County, where she and her husband worked a farm, raised seven children, and contributed to rural Swedish community life.
Mina herself writes about how grateful she was for the opportunity to be in America, where the pay was better, class differences were unconfining, and children—girls included—had the chance for a good education. In her own words, "I have never regretted that I left Sweden. I have had it better here."
Author Joy Lintelman greatly expands upon Mina's memoir, detailing the social, cultural, and economic realities experienced by countless Swedish women of her station. Lintelman offers readers both an intimate portrait of Mina Anderson and a window into the lives of the nearly 250,000 young, single Swedish women who immigrated to America from 1881 to 1920 and whose courage, hard work, and pragmatism embody the American dream.
You can buy the book online at Schuler's, or at a 20% discount in the store.
Future Swedish Reading club dates:
April 18, 2023: River Kings: A New History of the Vikings from Scandinavia to the Silk Roads by Cat Jarman
July 18, 2023: Stolen (Stöld) by Ann-Helén Laestadius