November 23, 2021-January 2, 2022
Christmas & Holiday Traditions at Frederik Meijer Gardens
The Swedish Christmas tree will be on display at Frederik Meijer Gardens & Sculpture Park, one of 46 cultural displays.
---
January 18, 2022
Swedish Reading Club: An Elderly Lady Must Not Be Crossed by Helene Tursten
7 PM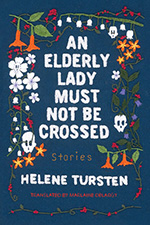 Our meeting will be held online using the videoconferencing app Zoom. For more information, including the link to join the meeting, please email info@sahswm.org.
Don't let her age fool you. Maud may be nearly ninety, but if you cross her, this elderly lady is more sinister than sweet.
Just when things have finally cooled down for 88-year-old Maud after the disturbing discovery of a dead body in her apartment in Göteborg, a couple of detectives return to her doorstep. Though Maud dodges their questions with the skill of an Olympic gymnast a fifth of her age, she wonders if suspicion has fallen on her, little old lady that she is. The truth is, ever since Maud was a girl, death has seemed to follow her.
In these six interlocking stories, memories of unfortunate incidents from Maud's past keep bubbling to the surface. Meanwhile, certain problems in the present require immediate attention. Luckily, Maud is no stranger to taking matters into her own hands . . . even if it means she has to get a little blood on them in the process.
You can buy the book online at Schuler's, or at a discount in the store.