September 20, 2019
Annual Meeting & Dinner
Thousand Oaks, 4100 Thousand Oaks Drive, Grand Rapids
6 PM Social Hour – 6:30 PM Dinner
$25 per person
Reservations due no later than Sept. 17.
Speaker: Willow Hagans, co-author of Zorn in America: A Swedish Impressionist of the Gilded Age, speaking about famous Swedish artist Anders Zorn.
Artist Anders Leonard Zorn was one of Sweden's foremost artists. He obtained international success as a painter, sculptor, and etcher. Among Zorn's portrait subjects were King Oscar II of Sweden, and three American Presidents, Grover Cleveland, William H. Taft, and Theodore Roosevelt. Willow will bring some of Zorn's etchings with her. Don't miss this great opportunity to learn about Anders Zorn from an expert.
Register online, or send a check to SAHS/WM, 29 Pearl Street NW, Suite 127, Grand Rapids, MI 49503.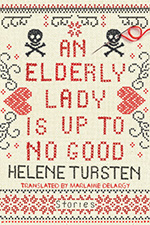 October 15, 2019
Swedish Reading Club: An Elderly Lady Is Up To No Good by Helene Tursten
Maud is an irascible 88-year-old Swedish woman with no family, no friends, and no qualms about a little murder. This funny, irreverent story collection by Helene Tursten, author of the Irene Huss investigations, features two-never-before translated stories that will keep you laughing all the way to the retirement home.
We will be meeting at Covenant Living of the Great Lakes, 2510 Lake Michigan Drive NW (between Oakleigh and Fairfield).
7 PM
The book is available at Schuler's, 2660 28th Street SE.
You can also buy the book online at Schuler's or another independent bookstore.
November 9, 2019
Save the date! SAHS and the Swedish Council of America are sponsoring two lectures by Richard Tellström. This is our second event in our series Scandinavian Cuisine Throughout the Year. Location & time TBA.
Here are the lecture titles:
Lecture 1: "The Swedish Christmas Table – Roots, traditions and new ideals"
Lecture 2: "Swedish food culture during the last 1000 years and the Swedish-American Food Heritage"
Richard Tellström is an associate professor in food and meal science and an ethnologist at Stockholm University. He will have spent the first week in November lecturing at the University of Michigan in Ann Arbor before he comes to Grand Rapids.