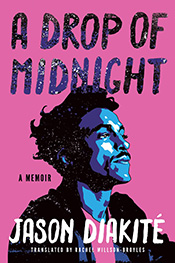 July 21, 2020
Swedish Reading Club: A Drop of Midnight by Jason Diakité
7 PM
Our meeting will be held online using the videoconferencing app Zoom. For more information, including the link to join the meeting, please email info@sahswm.org.
World-renowned hip-hop artist Jason "Timbuktu" Diakité's vivid and intimate journey through his own and his family's history—from South Carolina slavery to twenty-first-century Sweden.
Born to interracial American parents in Sweden, Jason Diakité grew up between worlds—part Swedish, American, black, white, Cherokee, Slovak, and German, riding a delicate cultural and racial divide. It was a no-man's-land that left him in constant search of self. Even after his hip-hop career took off, Jason fought to unify a complex system of family roots that branched across continents, ethnicities, classes, colors, and eras to find a sense of belonging.
"[Diakité's] tense but loving relationship with his father, who initially opposed his travels, pulls the narrative together. Through these experiences, Diakité better understands his father's point of view and comes to terms with his own identity as a multiracial Swede."
—Library Journal
The book is available at a 20% discount at Schuler's, 2660 28th Street SE.
You can also buy the book online at Schuler's or another independent bookstore.
September 18, 2020
Annual Meeting
Sunnybrook Country Club, Grandville
Our speaker will be Mika Roinila, who has written a book on "Swede Finns" in America, and will be speaking about this. He is currently the pastor at the Salvation Army chapel on Fulton.