April 18, 2023
Swedish Reading Club: River Kings: A New History of the Vikings from Scandinavia to the Silk Roads by Cat Jarman
7 PM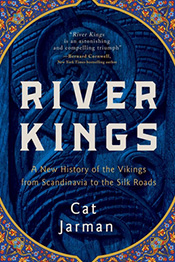 Our meeting will be held online using the videoconferencing app Zoom. For more information, including the link to join the meeting, please email info@sahswm.org.
Follow an epic story of the Viking Age that traces the historical trail of an ancient piece of jewelry found in a Viking grave in England to its origins thousands of miles east in India.
An acclaimed bioarchaeologist, Catrine Jarman has used cutting-edge forensic techniques to spark her investigation into the history of the Vikings who came to rest in British soil. By examining teeth that are now over one thousand years old, she can determine childhood diet—and thereby where a person was likely born. With radiocarbon dating, she can ascertain a death-date down to the range of a few years. And her research offers enlightening new visions of the roles of women and children in Viking culture.
"A masterly history. River Kings is a mystery and an adventure, the tale of a quest that took Cat Jarman from Repton to Scandinavia, across the Baltic Sea, over to Baghdad and finally to India. I was held captive. In addition to being a wonderful writer, Jarman is a skilled bioarchaeologist. River Kings is like a classical symphony, perfectly composed and exquisitely performed. Tiny trills of detail give way to pounding drums of drama."
—The Times (London)
You can buy the book online at Schuler's, or at a 20% discount in the store.
Next Swedish Reading club date:
July 18, 2023: Stolen (Stöld) by Ann-Helén Laestadius
---
June 24, 2023
Midsommar Celebration at Lakeside Park, Caledonia
Save the date!