Saturday, December 2, 2023
10 AM
We invite you to come and enjoy this lovely Swedish introduction to the Christmas season and listen to the Lucia choir sing in a beautiful setting. It will once again be held in the lovely sanctuary of Mayflower Congregational Church. There will be plenty of free parking.
There will be baked goods and coffee to enjoy afterwards plus a Julmarknad sale! Bring cash if you are interested in purchasing any items.
It helps us greatly if you pre-register and pay by December 1.
Once again, SAHS is sponsoring our annual Lucia scholarship competition. The Doris & Clarence Anderson Memorial Scholarship is in memory of two of our organization's founding members. Doris and Clarence were involved in almost every activity that our organization undertook. Doris was an especially integral part in our annual Lucia celebration. Among Doris' many achievements was her selection many years ago as Chicago's first Lucia.
The Scholarship Committee will award $500 each to a high school senior girl and senior boy who have been participants in our local Lucia pageant. Additionally, each applicant must be either the child or grandchild of a member of SAHS/WM. Applications can be downloaded here (PDF) and are due Nov. 26. We look forward to announcing the winners of this annual competition in December.
---
Tuesday, January 16, 2024
Swedish Reading Club: The Friday Night Club by Sofia Lundberg, Alyson Richman and M.J. Rose
7 PM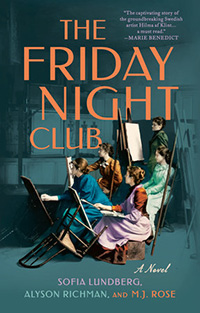 Our meeting will be held online using the videoconferencing app Zoom. For more information, including the link to join the meeting, please email info@sahswm.org.
While men have long been credited with producing the first abstract paintings, the true creator was actually a woman – Swedish artist Hilma af Klint, who was inspired by her mystic visions. Acclaimed authors Sofia Lundberg, Alyson Richman, and M.J. Rose bring her story to life in this groundbreaking novel.
"The Friday Night Club has everything I love in a novel: art, history, secrets, mysteries, friendships and love—along with a propulsive narrative. Kudos to Lundberg, Richman and Rose—and many thanks to them for bringing Hilma af Klint to life and giving her the attention her art deserves."
—B.A. Shapiro, New York Times bestseller of Metropolis and The Art Forger
You can buy the book online at Schuler's, or at a 20% discount in the store.