April 19, 2022
Swedish Reading Club: The Book of Eels: Our Enduring Fascination with the Most Mysterious Creature in the Natural World (Ålevangeliet : berättelsen om världens mest gåtfulla fisk) by Patrik Svensson
7 PM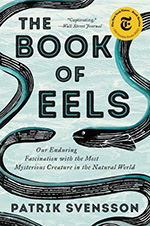 Our meeting will be held online using the videoconferencing app Zoom. For more information, including the link to join the meeting, please email info@sahswm.org.
Drawing on a breadth of research about eels in literature, history, and modern marine biology, as well as his own experience fishing for eels with his father, Patrik Svensson crafts a mesmerizing portrait of an unusual, utterly misunderstood, and completely captivating animal.
One of the 10 Best Science Books of the Year. "A masterful narrative that is part memoir and part scientific detective story."
—Smithsonian Magazine
"Svensson has, quite stunningly, discovered in the natural and human history of the European eel a metaphor for his father's life and a way to explore questions of knowledge, belief and faith."
—Washington Post
You can buy the book online at Schuler's, or at a discount in the store.