March 7, 2020
Swedish Folk Group Jaerv
7 PM
The award-winning Swedish quintet, Jaerv (pronounced "Yairv"), is coming to the Recital Hall at Covenant Fine Arts Center at Calvin University (3201 Burton St. SE) to put on a rollicking, fun and heartfelt folk music concert. The five members have created a homogenous, vivid sound which has established Jaerv on the folk music scene as well as in many other forums. Rooted in several different musical traditions with influences from both jazz and pop music, Jaerv offers a lively stage performance where vocal, five-voiced tunes blend in with energetic dances and free improvisations. Jaerv is an internationally well-known act and has toured the U.S., Japan, Spain, Scotland, Ireland, Finland and Norway as well as other countries.
Tickets are $18 (students $15) and are available from Calvin University.

April 21, 2020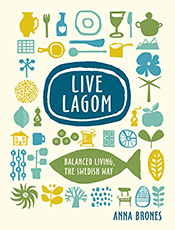 Swedish Reading Club: Live Lagom: Balanced Living the Swedish Way by Anna Brones
Covenant Living of the Great Lakes, 2510 Lake Michigan Drive NW (between Oakleigh and Fairfield)
7 PM
Live Lagom is a guide to life based on the Swedish philosophy of lagom, meaning "not too little, not too much, just right." Lagom helps you to achieve balance in everyday life and in all areas including home, work and health. Learn how to save money, feel less stressed, reduce your environmental impact, and create your ideal home and career through the way of life practiced in one of the happiest and most satisfied countries in the world.
The book is available at a 20% discount at Schuler's, 2660 28th Street SE.
You can also buy the book online at Schuler's or another independent bookstore.