June 26, 2021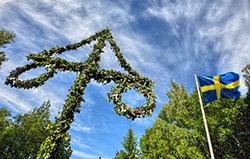 Midsommar Celebration
11 AM-4 PM
Join us at Millennium Park in Walker, Shelter B [map], for our traditional Midsommar Celebration! Because of COVID-19, we will not be providing food with the exception of dessert, our traditional cake with strawberries. Please bring your own lunch. We will have a covered pavilion with picnic tables for eating. There will ring dances, children's games, Kubb games, music and fellowship. We will follow CDC guidelines and advise the membership of the current standards prior to the event.
Please bring your own lawn chair. We will have seating available at the picnic tables, but you may want a lawn chair for Midsommar activities on the grass. We welcome donations of Swedish-themed raffle prizes and flowers and greens for the Midsommar pole.
Cost: Adult members: $5; adult non-members: $7. Children 5-15: $2.
---
July 20, 2021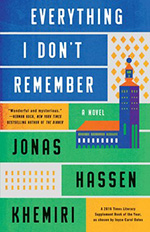 Swedish Reading Club: Everything I Don't Remember (Allt jag inte minns) by Jonas Hassen Khemiri
7 PM
Our meeting will be held online using the videoconferencing app Zoom. For more information, including the link to join the meeting, please email info@sahswm.org.
Winner of the August Prize, Sweden's most prestigious literary honor, Everything I Don't Remember is "compelling… In this painful novel about youthful optimism gone hopelessly wrong, Khemiri dramatizes such immigration-related issues as failures in elder care, unemployment and dead-end jobs, drug abuse, and racial prejudice." (Publishers Weekly, starred review)
You can buy the book online at Schuler's, or at a discount in the store.