January 21, 2020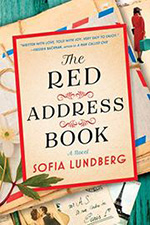 Swedish Reading Club: The Red Address Book (Den röda adressboken) by Sofia Lundberg
Covenant Living of the Great Lakes, 2510 Lake Michigan Drive NW (between Oakleigh and Fairfield)
7 PM
In this heartwarming debut novel, an international bestseller, 96-year-old Doris writes down the memories of her eventful life as she pages through her decades-old address book. But the most profound moment of her life is still to come…
The book is available at Schuler's, 2660 28th Street SE.
You can also buy the book online at Schuler's or another independent bookstore.
January 30, 2020
Meet and Eat at the Vander Mill
5:30-9:30 PM
Come to a casual evening get-together with other members of SAHS at a new venue for us! Vander Mill (505 Ball Avenue NE) serves award-winning Hard Cider and Craft Beer. A room has been reserved for us that overlooks the production facility. This will be an evening of ordering off the menu, so no prepayment is required. To give us a ballpark figure of the number to expect, please call the SAHS office at 616-458-0420 or send us an email at info@sahswm.org. See you there!
March 7, 2020
Swedish Folk Group Jaerv
7 PM
The award-winning Swedish quintet, Jaerv (pronounced "Yairv"), is coming to the Recital Hall at Covenant Fine Arts Center at Calvin University (3201 Burton St. SE) to put on a rollicking, fun and heartfelt folk music concert. The five members have created a homogenous, vivid sound which has established Jaerv on the folk music scene as well as in many other forums. Rooted in several different musical traditions with influences from both jazz and pop music, Jaerv offers a lively stage performance where vocal, five-voiced tunes blend in with energetic dances and free improvisations. Jaerv is an internationally well-known act and has toured the U.S., Japan, Spain, Scotland, Ireland, Finland and Norway as well as other countries.
Tickets are $18 (students $15) and are available from Calvin University.