The Swedish American Heritage Society of West Michigan was founded to preserve, foster and perpetuate traditional customs and culture of our Swedish heritage, as well as that of other Scandinavians.
If you are of Swedish heritage, or the spouse of same… or if you simply have a sincere interest in Swedish or Scandinavian heritage, you are invited to join us!
Make a donation to SAHS!
Note: PayPal accepts all major credit cards, debit cards, money from a PayPal balance, and PayPal Credit. You can also send a check to us at 29 Pearl St. NW, Suite 127, Grand Rapids, MI 49503. SAHS is a 501(c)3 organization, so your donations are tax deductible.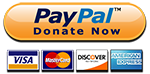 ---
Lucia is back!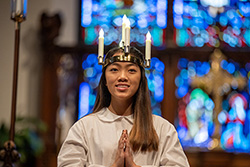 You are invited to attend our 2022 Sankta Lucia Celebration, to be held Dec. 3 at Mayflower Congregational Church in Grand Rapids.
Learn more on the Upcoming Events page.
Once again, SAHS is sponsoring our annual Lucia scholarship competition. The Doris & Clarence Anderson Memorial Scholarship is in memory of two of our organization's founding members. Doris and Clarence were involved in almost every activity that our organization undertook. Doris was an especially integral part in our annual Lucia celebration. Among Doris' many achievements was her selection many years ago as Chicago's first Lucia.
The Scholarship Committee will award $500 each to a high school senior girl and senior boy who have been participants in our local Lucia pageant. Additionally, each applicant must be either the child or grandchild of a member of SAHS/WM. Applications can be downloaded here (PDF) and are due Nov. 26. We look forward to announcing the winners of this annual competition in December.
---
Swedish Reading Club (on Zoom)

On January 17, 2023, the Swedish Reading Club will be discussing I Go To America: Swedish American Women and the Life of Mina Anderson by Joy K. Lintelman. Our meeting will be held online on Zoom.
Near the end of her life, Mina Anderson penned a lively memoir that helped Swedish novelist Vilhelm Moberg create "Kristina," the central female character of his beloved emigrant novels, a woman who constantly yearns for her homeland. But Mina's story was quite different.
Author Joy Lintelman greatly expands upon Mina's memoir, detailing the social, cultural, and economic realities experienced by countless Swedish women of her station. Lintelman offers readers both an intimate portrait of Mina Anderson and a window into the lives of the nearly 250,000 young, single Swedish women who immigrated to America from 1881 to 1920 and whose courage, hard work, and pragmatism embody the American dream.
Visit the Upcoming Events page to find out how to attend.