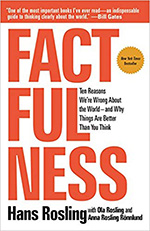 April 16, 2019
Swedish Reading Club: Factfulness: Ten Reasons We're Wrong About the World—and Why Things Are Better Than You Think (Factfulness: tio knep som hjälper dig förstå världen) by Hans Rosling with Ola Rosling & Anna Rosling Rönnlund
When asked simple questions about global trends—what percentage of the world's population live in poverty; why the world's population is increasing; how many girls finish school—we systematically get the answers wrong. So wrong that a chimpanzee choosing answers at random will consistently outguess teachers, journalists, Nobel laureates, and investment bankers. In Factfulness, Professor of International Health and global TED phenomenon Hans Rosling, together with his two long-time collaborators, Anna and Ola, offers a radical new explanation of why this happens. They reveal the ten instincts that distort our perspective—from our tendency to divide the world into two camps (usually some version of us and them) to the way we consume media (where fear rules) to how we perceive progress (believing that most things are getting worse).
We will be meeting at Covenant Village of the Great Lakes, 2510 Lake Michigan Drive NW (between Oakleigh and Fairfield).
7 PM
The book is available at Schuler's, 2660 28th Street SE.
You can also buy the book online at Schuler's or another independent bookstore.
May 4, 2019
Valborgsmässoafton Spring Celebration at Hager Park in Jenison
5-9 PM
Valborgsmässoafton is celebrated in Sweden on April 30th, but we gather to greet spring on the first Saturday of May, when Hager Park opens for the season. Please make plans for your family and friends to join us for this fun-filled event.
Hager Park is a beautiful park with walking trails through the woods a large wooden castle, swings and more in the play areas for children. After supper you may chose to go on a tipspromenad (quiz walk), which is a stroll through the trails of the wooded park to locate signs with trivia questions about Sweden. Feel free to bring your walking stick! There will be a version for children and one for adults. Whoever answers the most questions correctly will come away with a prize! Music will be part of the festivities and our own SAHS Chorus will sing by the bonfire at the end of the evening while guests toast marshmallows for their s'mores.
Food and drink will be served. The menu consists of grilled hot dogs or brats with chips, munchies and soft drinks, coffee or water (alcohol is prohibited on park property). Please bring a dish to pass. A-L desserts and M-Z salads/side dishes.
Cost is only $5 for 15 years and up; $2 for ages 5-15; under age 5, free.
Easy directions: Take I-96 west towards Holland. Take the Chicago Drive exit (69B). Turn right on Main Street to Baldwin, then take a left. Turn right on 28th Avenue and the park is within half a mile. Follow the signs to the SAHS picnic.
Please register by May 1 so we know how much food is needed! You can either register online, or by mailing a check to SAHS/WM, 29 Pearl Street NW, Suite 127, Grand Rapids, MI 49503. Make checks payable to SAHS/WM.
June 22, 2019
Midsommar Celebration