Annual Meeting at Thousand Oaks, September 20, 2019.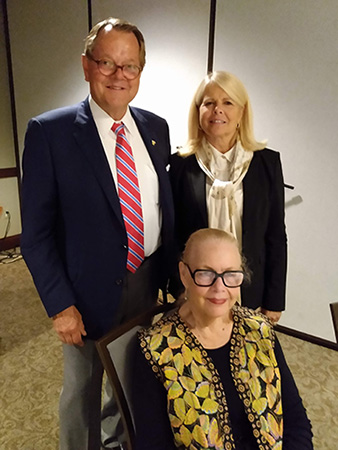 Willow Hagans, the evening's speaker, with Tom and Melissa Mark. Tom Mark is the Swedish Consul General of Michigan.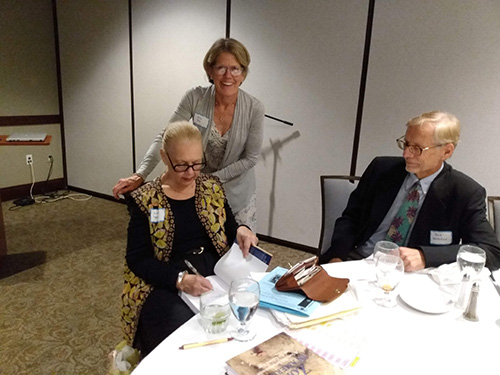 Author Willow Hagans signs a copy of Zorn in America for SAHS President Elise Roe.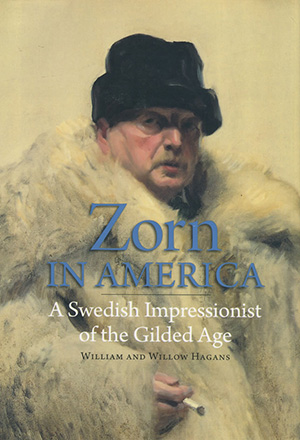 The cover of Zorn in America by William and Willow Hagans
Scandinavian Summer Cuisine Class, May 16, 2019.
Attendees learned to prepare strawberry rhubarb pie, spinach salad with asparagus and beets, and gravlax with mustard sauce.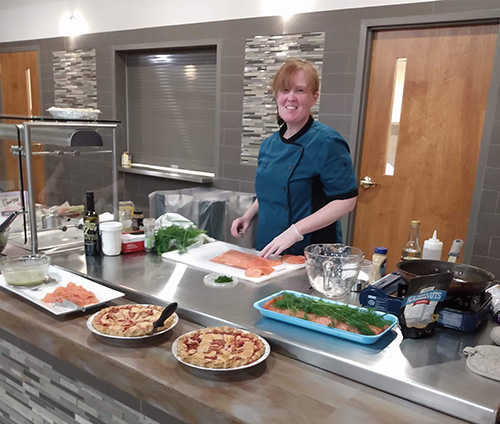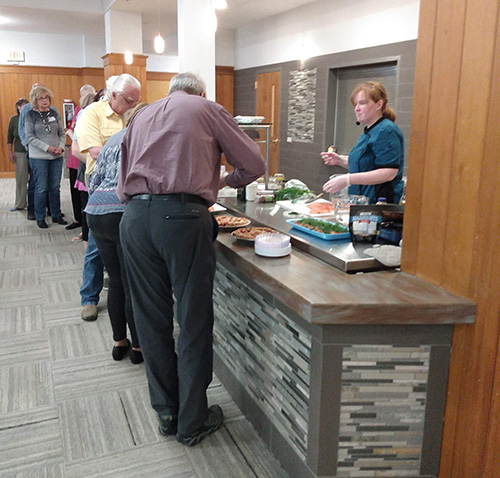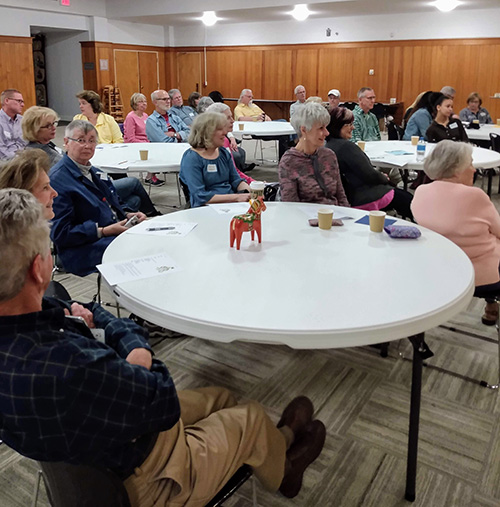 Annual Meeting at Covenant Village, Sept. 13, 2018.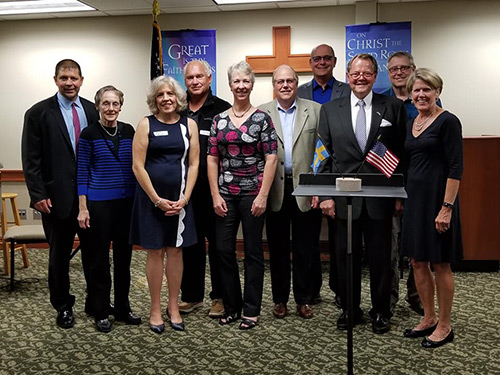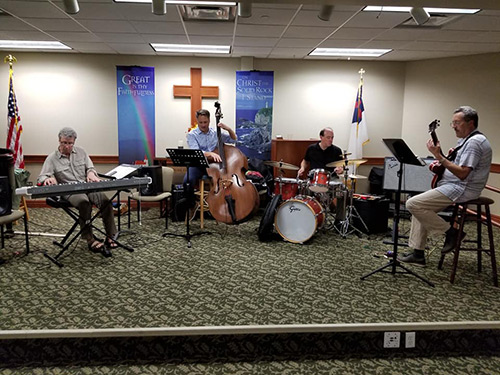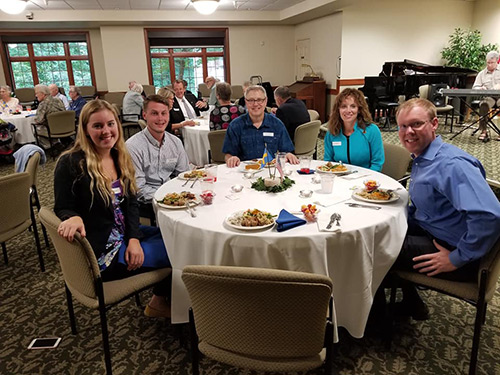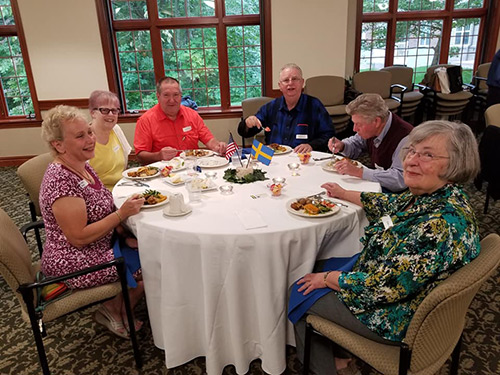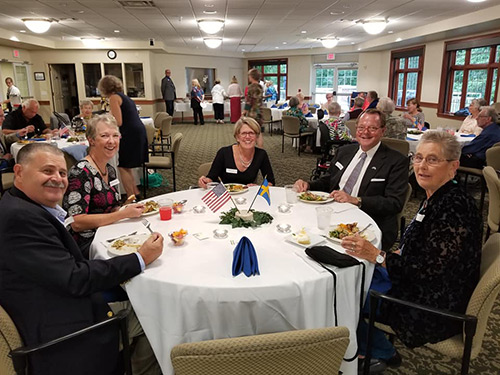 Julgransplundring at Covenant Village, Jan. 7, 2017.
Decorating the Swedish tree at Meijer Gardens, Nov. 11, 2016.
Patrik & Lena Brundin presented an interesting program about their research projects at Van Andel Institute at our Annual Meeting on Sept. 15, 2016.
A delicious dinner was served at Covenant Village at our Annual Meeting on Sept. 15, 2016.
SAHS/WM volunteers decorated the Swedish tree at Meijer Gardens on Nov. 18, 2015.
Chef Lars Nordell prepared a Swedish dinner on March 6, 2015.
SAHS/WM volunteers decorated the Swedish tree at Meijer Gardens on Nov. 14, 2014. Lena Meijer joined our members.

Maestro Magnus Mårtensson with Sven Åke after the October 27, 2012 concert
15th Anniversary Celebration at Kent Country Club, Oct. 5, 2012:

Marie Smith with Doris Anderson Scholarship raffle prizes

Mascot Sven Åke dressed up for the evening

Mats, Tami and Linnea Hjelm

Enjoying dinner conversation

Swedish Council of America Award of Merit Recipients, Klas, Ulla and Mats Hjelm and Beth Foster, center, with Mary Seeger and KerstinTrowbridge

Sarah Torres, winner of the raffle

The Swedish book club selection for April 17, 2012 was A Michigan Polar Bear Confronts the Bolsheviks by Godfrey J. Anderson with Gordon Olson.
Olson (seated, 2nd from right), Grand Rapids City Historian Emeritus, was the special guest and gave an interesting presentation.
Swedish Cultural Day, March 26, 2011:

Troll crafts

Troll crafts

Meatball dinner

Apple cake with vanilla sauce and semlor for dessert

Around the table

Sue Staffacher signs an autograph for Clara Brooks
SAHS Innebandy/Floorball Team, Spring 2011:
Two photos from Semmelfest, March 27, 2010:

Past and present SAHS Board Members at the 2009 Annual Meeting. Click on the photo for a larger version.
More photos from the Annual Meeting kafferep (Swedish coffee party) held on Sept. 15 at the Atomic Object Building:

The Swedish Reading Club met on April 21 at Schuler Books to discuss Missing (Saknad) by Karin Alvtegen.

Swedish Council of America's board met in Grand Rapids April 16-18, 2009.

Table at the joint dinner with Swedish Council of America board at Kent Country Club

The joint dinner with Swedish Council of America board at Kent Country Club

Cai Rubin and Samuel Ernest perform at Kent Country Club

Innebandy (floor hockey) players, Spring 2009
Two photos from Semmelfest, March 21, 2009:

The SAHS table from the Ethnic Heritage Festival at the Public Museum, Feb. 7, 2009
Photos from Swedish Cultural Day, Nov. 1, 2008:

Making rag dolls

Finished rag doll

Making potato prints

Playing Fia

Stirring the pea soup

The kitchen crew

Along with their lesson, the Swedish class enjoys delicious baked goods every week!
Carl Erickson and Daniel Siminski bought the coveted 2008 Tower Tour of the Mackinac Bridge at the SAHS fall auction. Here they are enjoying the experience:

Summer Story Time for SAHS Kids, July 18, 2008

Assisting with a Kubb Game for the Grand Rapids Public Museum's Grand Race, June 14, 2008

Innebandy (floor hockey) game at Collins Elementary School, Spring 2008

Sydney, Erica and Clara at the Arnie's Meet and Eat, March 2008

Enjoying food and fellowship at Arnie's

At the SAHS 10th Annivesary Celebration (Sept. 15, 2007): Lennart Johansson, Michigan's Consul General from Sweden, gives Swedish Council of America Awards of Merit to Arne Fahlen
and Cai Rubin.

Doris Anderson with Urban and Barbro Lundberg at Swedish Cultural Day in November 2006.

Karn Adams, Jane Adams and Beth Holmes at IKEA, Canton (Oct. 2006).

Clarence and Doris Anderson, George and Kerstin Trowbridge, Jan
Williams and John Nelson at the Swedish Bridge Conference in Karlstad, Sweden (Sept. 2006).

SAHS members attended a reception for Swedish-Americans at the Governor's Mansion on Sept. 22, 2006. In attendance were Gov. Jennifer Granholm and Ambassador Gunnar Lund.

A group of weavers from Sweden visited Grand Rapids in June 2006.

Home hospitality for weavers

Three generations at IKEA (October 2005): Helen Stanley, Susan Hartger and Hannah Hartger.

Grand Rapids Art Museum, 2005.

Philip, Andrea and Vanessa at Swedish Cultural Day on March 19, 2005.

Doris Anderson of SAHS made a Swedish presentation to 75 third graders at Bauerwood Elementary School in Jenison in 2004. Wearing her Swedish national costume, she told the kids about the geography, history and general culture of Sweden. This was the third year that she was invited to do this.

A few friends celebrated the 85th birthday of SAHS member Tonny Olson (on the far left) on Jan. 4, 2004 in Grand Rapids.

Clarence and Doris Anderson receive the Swedish Council Award of Merit at the Swedish Council of America's Annual Awards Dinner on May 10, 2003 in Dearborn. (In top photo, left to right: Sweden's Ambassador to the United States, Jan Eliasson, Doris and Clarence Anderson. In bottom photo: SAHS members at the dinner.)
SAHS MEMBERS PROVIDE CHRISTMAS ENTERTAINMENT AT NEXT GENERATION COUNTRY HOME IN FRUITPORT, MI (2003):

Doris Andersen and Lily Hotham enjoying a little dancing to "Nu är Det Jul Igen." Cai Rubin and Ken Larm provided an evening of happy accordion music. Glenn Anderson [r] arranged the evening's festivities.

Glenn Anderson with his aunts: to his right is the oldest SAHS member, Mary Hogan, 105 years old! Next to her is Lily Hotham, who turned 99 in April 2003. Around them are their children and grandchildren.

SAHS group at the Oct. 19, 2002, outing to Charlton Park in Hastings.
SAHS FIFTH ANNIVERSARY GALA CELEBRATION:
What an evening! What a turnout! 200 members and guests gathered at Meijer Garden's Palm Room on September 15, 2002, to mark the SAHS anniversary.

After a welcome by President Kerstin Trowbridge, MC John Bergstrom introduced the Reverend Dale Nelson, who had come all the way from Bloomington, Indiana to participate and do the invocation.
A delicious dinner of prime rib and salmon was served and topped off with scrumptious desserts donated by Arnie's Bakery. The Heidelberg Quartet played classical background music.
The Honorary Swedish Consul for the State of Michigan, Lennart Johansson, told us about his duties and introduced Jan Hartmann, Chairman of the Swedish Council of America. Jan explained to us about the Council, an umbrella organization for all Swedish clubs in America.

Speaker Jan Hartmann, Swedish Council of America
Then Kara Alfano, accompanied by Heidi Laura, entertained us with her beautiful voice, singing a selection of songs from arias to musical theater pieces to Swedish folk songs.
The evening ended with the singing of the Swedish National Anthem and "God Bless America," led by Tami Hjelm.